Learn How To Overcome Common Reader Complaints…
As you go through the 5 modules in this course, you'll learn practical tips for overcoming the plot problems that readers often gripe about.
Take a look...
Why do readers abandon novels?
As you can see from this screenshot of a Goodreads infographic, a whopping 46.4% of readers abandon novels because the story started too slowly.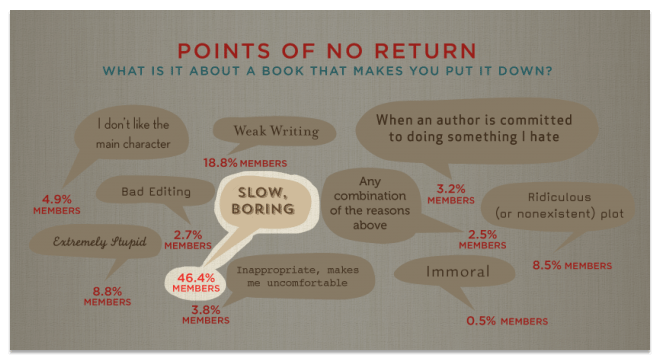 This problem isn't limited to novels, either. A few years ago, a studio reader compiled all the reasons why he gave a pass to a script, rather than a recommend (or a consider).
Out of the 300 scripts he read, 69 of them (or 23%) started too late and "failed to gain traction until after the halfway point."

In Lesson 1.4 of this course (which comes with a deck of 35+ slides), you'll learn how to position your inciting incident to solve the problem of sluggish pacing. In Lesson 2.2, you'll learn how to detect—and fix—the "slow starter" problem that the studio reader found in so many scripts.
Coupled with the writing exercises "Tick-Tock," "Speed It Up," and "Analyzing Chef" from your Three-Act Structure Workbook, the next story you write should avoid becoming another tragic Goodreads or studio-reader statistic.
What's it like to be mentored by John Grisham?
I have no idea.
But Tony Vanderwarker does.
For 2 years, Grisham mentored Vanderwarker. (The men are neighbors.) As part of his mentoring sessions, Grisham spilled the secrets of how to successfully write popular fiction.
One of them is this: a strong middle.
Vanderwarker elaborates:
Coming up with the opening and ending is easy, he [John Grisham] says. It's that 300-page hunk in the middle that has to hold up and not run out of gas.
By the time you've finished Module 2 of this course, you should walk away with the confidence that you can write a middle that doesn't "run out of gas."
To get more specific, in Lesson 2.1, you'll learn how to liven up the middle of any (a) plot involving a romance, buddy-cop duo, or road trip or (b) story in the action, thriller, or mystery genres.
In Lesson 2.4, you'll learn about a neat trick (used in a Colleen Hoover new-adult romance and the heist film Fast Five) to make the end of your story middle more emotionally intense.
Plus, after completing the writing exercise "Gloves Off!" that follows Lesson 2.4, you'll be less likely to yield to an instinct that can easily derail your quest to write a gripping story middle.
That's not all. In Lesson 4.3, you'll learn how to flesh out your story middle with variations of a special plot point. Use this plot point well, and it might even feel like the middle of your story is writing itself!
Could this be the reason a reviewer docked a star from your book? (Or why your script got a pass instead of a consider?)
Take a look at this excerpt from an Amazon.com review for the YA fantasy novel Crown of Embers.
My main gripe with the book is the ending and [that] is what kept it from being 5 stars. Like the previous book, there was a lot of buildup to the climax. You wait the entire book for Elisa to get to the end of her journey. You wait for the fireworks, instead you get tiny little sparklers. Where was my epic fight? Epic something!
This reader was disappointed because she wanted a dazzling finale (fireworks)…but got anticlimax (sparklers) instead.
If you want to leave readers begging for more, you can't disappoint readers like this.
Unfortunately, I see this problem a lot. That studio reader I mentioned a little while ago? He has too.
Out of the 300 scripts he analyzed, 35 suffered from an anticlimactic ending. (In addition, 30 went "off the rails" during the third act.)

Clearly, you don't want to drown your readers in an ocean of anticlimax.
Fortunately, in Lesson 3.7 of this course, you'll learn the secret sauce to creating "fireworks" for your readers. I'll walk you through it, piece by piece.
PS: In Lesson 3.1, you'll learn the mindset that you absolutely must cultivate in order to craft a successful story ending.
PPS: Just so you know, the lessons from Module 3 (on story endings) are my favorite. I think you'll get a lot out of 'em!
Readers succumb to this money maker—yet grumble about it. Here's one fix…
Go to any reader-centric hangout, and you'd be hard-pressed not to find vocal loathing for cliffhanger endings.
Yet, at the same time, the cliffhanger ending can be a powerful sales tactic.
So if you'd like to steer clear of the controversy—but still enjoy steady sales—what should you do?
Well, in Lesson 4.2, I'll share with you a simple technique you can use to entice readers to buy the next book in your series—without resorting to the cliffhanger.
This isn't as bad as the blank page (but it comes pretty close).
Have you ever bought lemonade from the store?
Like freshly squeezed lemonade, it has the same yellow-white color.
It's clouded by the same lemony pulp.
And it has the same flavor profile (sweet, yet tart).
But bottled lemonade sure doesn't taste the same as fresh.
In the same vein…
…there's a difference between pages filled with words—and pages filled with words worth reading.
(And this worthiness, by the way, is determined by the average Joe just looking to escape reality for a few hours—not by some snooty literary critic.)
While blank pages are the worst, pages filled with words that do NOT add up to a story…well, that's almost as bad.
That's because, to succeed—to make serious side income with your writing—your story can't just look like a great read.
It has to be one.
As author (and writing instructor) James Scott Bell put it:
Turning all that raw material [for a story]…isn't simply a matter of putting it into words on a page or screen. You have to "translate" it into a form that readers can relate to. That's what structure does.
Many writers struggle with that last part: translating their words "into a form that readers can relate to."
All the lessons in this course should help you tackle this widespread problem. In this regard, though, the audio content from Lesson 5.5 is particularly helpful. It recaps 6 ways that three-act structure can improve the odds that your screenplay or novel will, indeed, be a good read (and not just have the right length).
Plus, at the very end of Module 5, you'll find the Story Structure Organizer: a 70+ page workbook that will help you build—step by step—a sturdy structural foundation for your next novel or screenplay.
This is just a sampling of what you'll learn in this course…
A brief taste of it, really. If you'd like to get a fuller picture, scroll down to the bottom of this page. There, you'll get a full list of all 29 lessons.
Also, I've made 3 lessons available for immediate preview. Check them out now and instantly get a feel for what this course is like.